Get Tech Tips
Subscribe to free tech tips.
What Tradespeople Can Learn from Underdogs
WARNING: THIS ARTICLE IS FULL OF CHEESY SPORTS REFERNCES – I UNDERSTAND IF YOU PASS ON THIS ONE, BUT PLEASE REFRAIN FROM SENDING THE REPLY EMAIL ABOUT WHY SPORTS OR STUPID OR WHY YOU DON'T WATCH THE NFL ANYMORE…. I GET IT… IT'S ALL GOOD 
I really like an underdog story. I live for stories like Trevor Bayne's 2011 Daytona 500 win and Rich Strike's 80-1 Kentucky Derby shocker. One of my favorite sports moments was when the New York Giants beat the New England Patriots in Super Bowl XLII.
For the record, I've never been a Tom Brady fan, even before the scandals came out. I dislike Tom Brady in the same way—and for the same reason—that many football fans don't like him: he is infuriatingly good! I could say the same about any sport where the same few people dominate every single time.
What can I say? I just get plain sick of the same people winning all the time!
However, I must admit that those dominators have a lot of traits that we can learn from in our field of expertise. Even though I personally think that those players make for boring sports television, I can't deny that they have traits and habits that would make them great tradespeople. However… in the case of Brady we can quickly forget that he was an underdog himself…
Have a Long-Term Vision
Even though we only really pay attention to the recent successes of sports figures, many of the sports legends started at the bottom. Some of these were semi-calculated moves, too. For example, Tom Brady was drafted with the 199th pick in the draft; his choice to play for Michigan meant that he was in Brian Griese's shadow.
Many of us have to work with what we're given and can develop our humble work situations into lucrative opportunities. Maybe you're working for a small company with a great prospect of upward mobility. That organization may not pay as much as a larger company. However, you might not be a prime candidate for upward mobility if you get a job with a bigger company that pays its rank-and-file techs a buck or two more.
That said, many of us make decisions based on short-term goals. In order to be the best of the best, you need to make choices based on the long-term vision. That means that you must choose opportunities not only for what they can do for you tomorrow but for your entire career. That co-worker who makes you angry or that other job that will pay you a dollar or two more may tempt you to make a change, but is it the right change for the long term?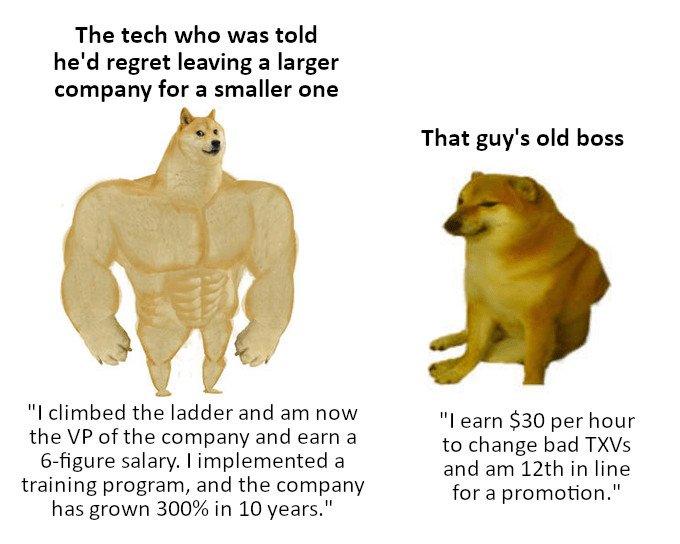 Make decisions now that the version of you 10 years from now will look back and thank you for. Those choices include spending time reading instead of watching TV, saving instead of spending, and making time for your family instead of going out and having a beer. You'd be wise to choose a job based on how much you will grow and the opportunities that lay ahead rather than just the paycheck.
Prepare
I haven't spoken to any of the top athletes, coaches, or trainers personally, but if I were a gambler, I'd bet that NONE of them are flying by the seat of their pants. Natural skill doesn't get you to the top in the sports world. You become the best of the best by preparing, listening to mentors, and paying close attention to detail.
Jim Bergmann said it best when he told me:
Guys will come up and tell me that they have 20 years of experience, and their way works just fine. I tell them, "No, you have 1 year of experience, 20 times over."
"Playing the game" alone isn't enough to give you an edge. You need to:
Read and study; stay up on the latest tools, techniques, and technology.
Seek out good coaches who will challenge your thinking and get you to the next level of detail and precision.
Look for vulnerabilities in your opponent (the equipment) and know them like the back of your hand. Look for patterns that will help you work more accurately and efficiently in the future.
If there is one part or process on a piece of equipment you serve that you don't understand, stop and take the time to understand it before moving on.
Use Tools to Seize the Advantage
It's time to get controversial.
Many top athletes and coaches have indeed been caught in some "cheating" scandals. Need I mention "Deflategate" of 2014? (Deflating a football makes it easier to catch and grip, and Brady's defense was that the pressure in the football dropped between the warm locker room and the cold field. That story is an interesting example of gas laws in action, but I digress.) Bill Belichick, the Patriots' coach, also played a major role in "Spygate" for videotaping the Jets' defensive signals.
Some of the scandals are far more insidious, like Lance Armstrong's infamous doping program when he won the Tour de France seven consecutive times.
Of course, there's no reason to "cheat" like that in our field. You're not going to get suspended from your job or have accolades taken away if you use fancy tools that make you feel like you're cheating. Some old-timers may grumble at you or insult you online, but that's about the worst that could happen. The benefits of doing faster, more accurate jobs include reducing callbacks and increasing your profitability as a tech. Those things FAR outweigh the possible disadvantage of catching flack from rude people who are stuck in their ways.
Using new, fancy tools can feel like cheating at times, but anything that increases accuracy or your job performance, like the JobLink Probes or Zoomlock, is worth considering. Use any advantage you can get; high-quality, well-maintained tools can make a huge difference in the hands of a good tech.
Seek Out Good Coaching
Many great athletes forged their raw skills into greatness with the help of a coach or a mentor. After all, Hank Haney is the common denominator between Tiger Woods and Mark O'Meara.
In our trade, you have a huge opportunity to find mentors online that you never had before. I find myself calling, emailing, and texting my friends and mentors all the time with questions, some of them pretty stupid. 
Nowadays, we even have programs like Trevor Matthews's Refrigeration Mentor, which provides customized education for individual technicians and facilitates mentorship within companies. Trevor introduced his program on the HVAC School podcast, which you can listen to HERE.
If you really want to be exceptional, you need to know people who can give you good advice and even set you straight when you need it. Listen to the podcast episodes with Jim Bergmann; he's not afraid to tell me I'm wrong in front of our whole audience when I say something that's incorrect. Find a few pros who aren't afraid to call you out. If you want validation, talk to your mom. But if you really want to get better at what you do, talk to a coach or mentor.
If you want to learn more about how to make mentorship work, check out THIS podcast I did with Eric Kaiser. Andrew Greaves also talked about it a while back on the podcast, and you can listen to that one HERE.
Enjoy Your Work
Plenty of pros with "nothing left to prove" have refused to retire. They just love the game that much (or maybe the glory). 
Perhaps unsurprisingly, Tom Brady's love of the game has made him unwilling to retire. He announced his retirement in February 2022, but he decided to rejoin the Tampa Bay Buccaneers for the 2022 season within 40 days of his retirement announcement.
I would argue that our work is far more important to the world than sports, and it's also no less challenging or interesting. People don't realize it, but we're constantly solving problems and forming game plans in our heads as we check the superheat and static pressure.
Choose to engage with your work and enjoy it; keep those competitive juices flowing by doing a better job every day than the day before. Sure, some parts of the trade can seem repetitive, but isn't swinging a baseball bat just as repetitive? Well, it's the pitches that keep the challenge alive, and each new HVAC system we encounter is like a different pitch in a baseball game.
Put Others in the Spotlight
Sure, a quarterback can run with the ball. However, quarterbacks are much more effective when they pass the ball off to their teammates and give them a chance to shine. 
Those of us that try to do it all ourselves will just break our backs. Like a quarterback who runs too much, we'll also likely end up with a concussion or some other sort of nasty injury. Invest in the next generation of techs and pass the ball whenever you can to give them a chance to gain experience.
Don't Give Up
There's a reason why the New England Patriots, New York Yankees, Los Angeles Lakers, and other teams are among the winningest in their respective sports.
It's almost like they know something the rest of us don't. I would argue that they do.
They know that nobody in the team is going to throw in the towel, no matter how bad it gets. If they make a mistake, they don't spend time arguing and pointing fingers. They just move on; they learn what there is to learn and get back to their winning ways.
Most of us get beat down and fall into a rut after a while. Bad things happen, customers take out their frustration on us, we make a misdiagnosis, and we start to think that's just how it goes. The truth is, that is just how it goes, but that is no reason to adopt a loser's attitude. 
However, we can learn the best lessons in tenacity from the underdogs. 
Take Risks, Ignore Naysayers, and Play the Game
The trade is full of folks who have been kicked in the teeth by life. It's no surprise that many of us identify with the underdogs.
I've given a lot of spotlight to through-and-through champions like Tom Brady in this article. However, we can learn the best lessons in character from the athletes who take their shot no matter how much the odds are stacked against them.
That was literally the case for Kentucky Derby winner Rich Strike. The colt was coming off a 5-race losing streak going into the Kentucky Derby. He wasn't even among the top 20 Derby qualifiers; he was #21 in the standings, and his connections entered him in the Derby anyway as an "also-eligible." That meant that the only way he could run was if a horse scratched out of the race. Sure enough, a horse named Ethereal Road was scratched from the Derby, and Rich Strike was in. 
Rich Strike's 30-1 morning line odds shot up to 80-1 due to very few people betting on him. The professional handicappers and casual bettors alike disregarded him, and the talking heads hardly mentioned him at all. The TV broadcast shared no highlights or sweet stories about him; everyone treated him as an "also-ran" from the very start.
Despite everything, Rich Strike didn't get the memo that he wasn't supposed to be a factor in the race; he stayed out of the wind behind all of the other horses until the far turn. As the horses straightened into the final stretch, Rich Strike sliced through his rivals on the inside and struck the front within a furlong of the finish line, bravely dodging his slower rivals and passing the dueling pair of Epicenter (4-1 favorite) and Zandon (6-1 third betting choice) to win the race. 
No matter how badly he'd been beaten in the past or how harshly he was written off, Rich Strike had it in him to win. He had the stamina, a winner's mindset, a jockey and trainer who set him up for success, and owners who weren't afraid to take a risk in the name of thinking about the big picture.
Yes… I know Rich Strike is a horse… but sometimes we feel like we are being ridden hard just like that so I'm sticking with the example 🙂

You have a valuable skill in a trade with endless possibilities. No matter what you've experienced, you have an opportunity to learn from those experiences. You, too, can do great things even when your career seems unbearably tough.
The next time you watch football, NASCAR, horse racing, golf, or whatever sport you enjoy watching, think about what makes the greats who they are. Whether they're underdogs or champions several times over, great athletes all have traits that we can attempt to emulate as tradespeople.
—Bryan
Related Tech Tips