Back
Introducing Refrigeration Mentor w/ Trevor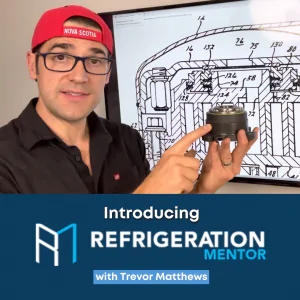 Trevor Matthews comes on the podcast to discuss his newest project, Refrigeration Mentor. Refrigeration Mentor uses Trevor's experience as a trainer and field technician to guide others in their careers.
Trevor's goal is to help commercial refrigeration technicians grow and become more confident in their skills. He wants them to become the best technician they can be, and he believes that mentorship is one of the things that make our industry great. Mentorship can help people advance their careers, sharpen their skills, and ease their anxiety about work.
When we share knowledge, we bring value to the technicians. That value extends to the customer when technicians are more confident in their work and do better jobs. A good mentor has a commitment to doing quality work within the trade but will make their mentees feel comfortable to admit what they don't know.
Mentors can also help their mentees develop a solid work-life balance that helps mentees be present to their jobs and their families. The mentor's job is to help their mentees reach their goals, whether that's learning a new skill, entering a leadership role, or even starting a business.
Trevor also wants to help business owners or managers strengthen their teams. He believes that a dynamic culture and a strong emphasis on training will help a business (and the industry as a whole) grow. His mentorship approach comes from strengthening technicians, businesses, and the industry from the heart.
Trevor and Bryan also discuss:
Holistic training
Hesitancy to admit what we don't know
Passionate teachers
Mental health
Starting and managing a business from the inside
Investing in training and mentorship
Kaizen
Check out Trevor's website at https://refrigerationmentor.com/.
If you have an iPhone, subscribe to the podcast HERE, and if you have an Android phone, subscribe HERE.
Check out our handy calculators HERE.
Check out information on the 2022 HVACR Training Symposium at https://hvacrschool.com/symposium/.