Back
Starting an Internal Training Program w/ Trevor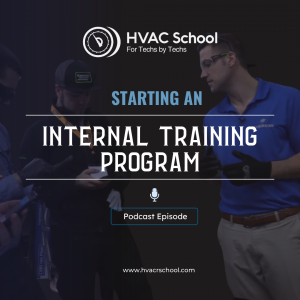 Trevor Matthews, the founder of Refrigeration Mentor, returns to the podcast to talk about starting up an internal training program for an HVAC/R company.
In some cases, the best lead technicians don't want to be head trainers if the responsibility is forced upon them. However, when there is a solid training plan in place, those senior technicians might actually find the task enjoyable.
The first step to starting a training program is to ask the apprentices and technicians where their skills are at and how they want to develop their skills. That way, you can map out a program that works for the technician and figure out how to make time for thorough training.
When you grow people within your company, you'll likely see more success than when you outsource training. It takes longer to develop the relevant skills in outsourced people; so, when you develop a solid internal training program, you can sustain it with the people who pioneered it.
We also need to focus on evaluation in training. When we assess our techs' skills, we add accountability to our training programs. However, it takes time for techs to grow from a training program, and we need to make sure we're rewarding progress.
Training also works best as a team approach. When we look at the techs' strengths, we can diversify the training program and make sure that several skill bases are covered.
Trevor and Bryan also discuss:
Common excuses to avoid training
Motivated trainers and technicians
Labor shortage and skills gap
Visual, auditory, and kinesthetic learning preferences
Prevention-based training
Managerial involvement in training
Learn more about Refrigeration Mentor at https://refrigerationmentor.com/.
If you have an iPhone, subscribe to the podcast HERE, and if you have an Android phone, subscribe HERE.
Check out our handy calculators HERE.
Check out information on the 2022 HVACR Training Symposium at https://hvacrschool.com/symposium/.