Get Tech Tips
Subscribe to free tech tips.
What to Check Before Condemning the TXV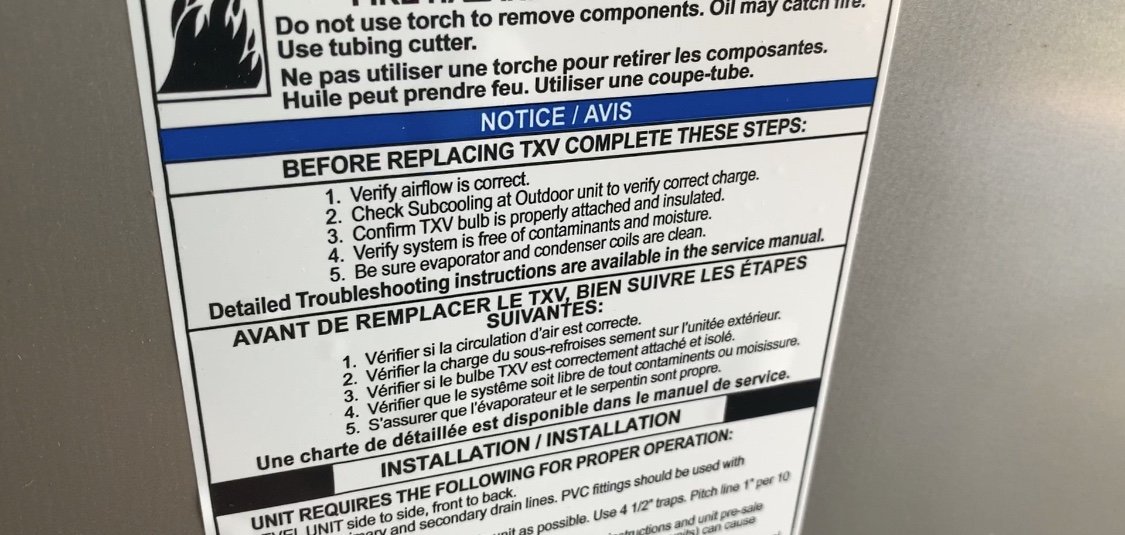 I just noticed this portion of the Carrier air handler sticker for the first time the other day. I'm like most techs; it's easy for us to ignore the great info posted right in front of us on the data tag. That's because so many of the notices contain info we are used to seeing.
I like this list because it is very practical.
Verify airflow is correct. Easier said than done, but this includes a visual inspection of the air filter, evaporator coil, and blower wheel, checking all of the air handler/furnace/control settings, verifying you are getting the correct calls/signals, and then checking static pressure. Some purists suggest actually "measuring" total system airflow, but this can be very tricky unless you own a TruFlow grid or are very experienced with a hot wire anemometer.
Check subcooling at the outdoor unit and verify correct charge. You need to have a solid line of liquid delivered to the TXV for it to do its job. Get the charge set first by subcooling before overanalyzing valve operation.
Confirm TXV bulb is properly attached and insulated. This procedure should be done with a factory brass or copper strap or with a stainless steel strap. In all cases, it should be snug with the entire bulb making good suction line contact. If a bulb is loose or uninsulated, it will generally run lower than design superheat.
Verify the system is free of contaminants and moisture. This is less something you can "verify" and more something you prevent by purging nitrogen, flowing nitrogen while brazing, and evacuating to below 500 microns with a standing decay test. It is important that you check for temperature drop across any filter/driers or screens BEFORE reaching that "bad TXV" diagnosis.
Be sure the evaporator and condenser coils are clean. This is just good general advice and something we should be checking along with air filters and blower wheels anyway.
—Bryan
Related Tech Tips