Back
Ventilation and 62.2 Intro & Rant w/ Genry Garcia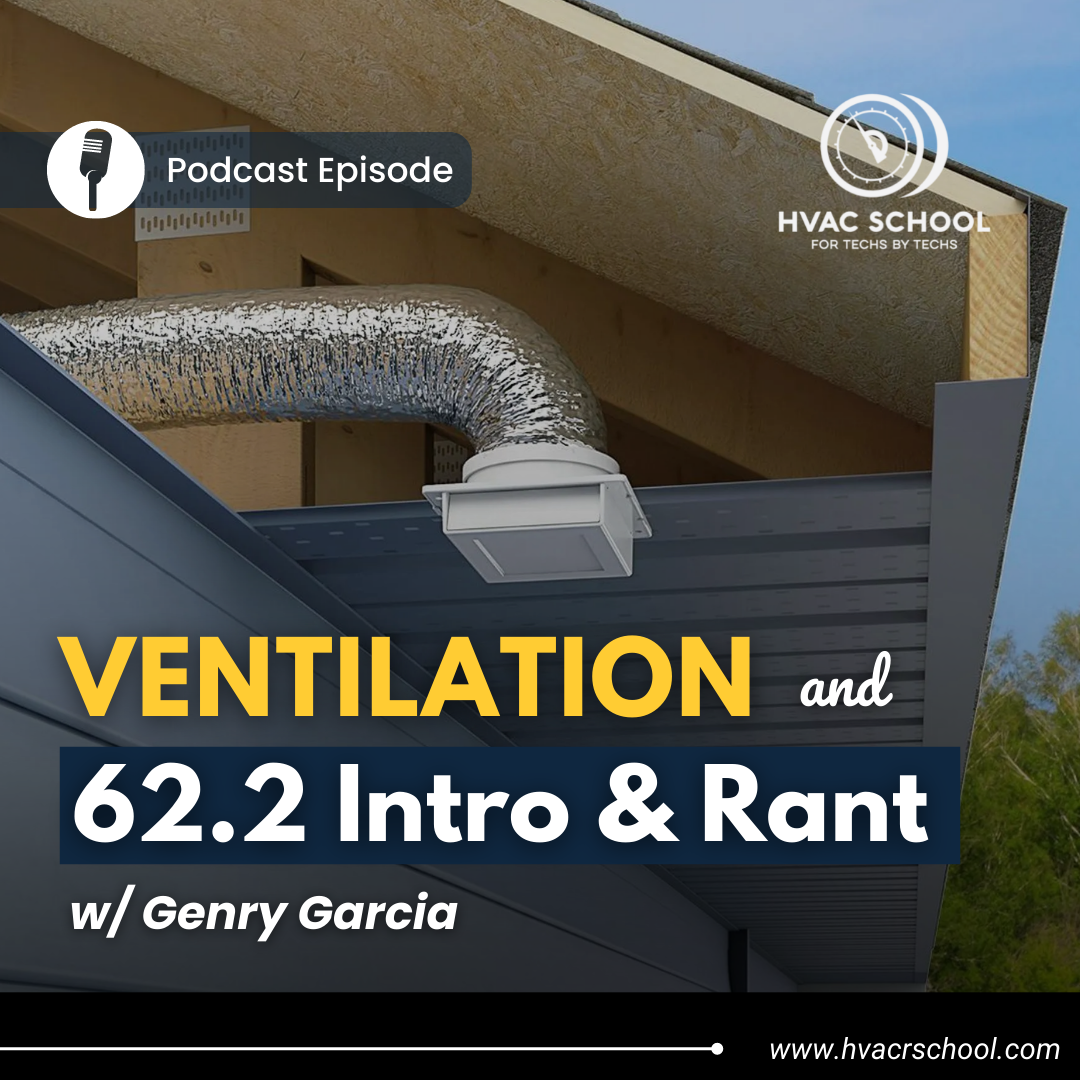 Genry Garcia joins the podcast to give an intro to ASHRAE Standard 62.2. He and Bryan also share a nice rant about accountability in HVAC design. Standard 62.2 is the ventilation standard for low-rise residential buildings, which dilutes airborne contaminants like VOCs and CO2.
Before coming up with a ventilation strategy, we need to assess the leakage rate of the building, such as via a blower door test. However, we also need to consider how bringing in outdoor air might negatively affect efficiency and comfort if we don't do it right.
Exhaust ventilation removes air from the structure and relies on infiltration to bring air back in. Instead, we can use controlled intake air, which is brought in from the outdoors instead of unconditioned spaces in the home.
Ventilating dehumidification is a strategy we can use to comply with 62.2; we can bring in filtered outdoor air and dehumidify it before injecting it into the supply ductwork. When we introduce ventilation in a Florida installation, bringing it in through the return is typically not ideal, especially if it's unfiltered.
People can go wrong with 62.2 if they remain shortsighted; when designing ventilation systems, we need to think about a lot more than the load calculations and CFM of fresh air needed. We need to focus on accessibility, ventilation strategies, and location-specific installation practices. Consulting tradespeople during the design process would likely make ventilation systems much more accessible, sensible, and effective.
Genry and Bryan also discuss:
Ventilation as an IAQ strategy
Infiltration credits
Pressurization
Continuous vs. spot measurement
Holding the right people accountable during the design phase
Intermittent vs. continuous ventilation
Automating ventilation with sensors
Controlling ventilation on a timer
Genry's ideal methods of controlling ventilation
If you have an iPhone, subscribe to the podcast HERE, and if you have an Android phone, subscribe HERE.
Check out our handy calculators HERE.