Back
Steve Coscia – HVAC Soft Skill Training Resources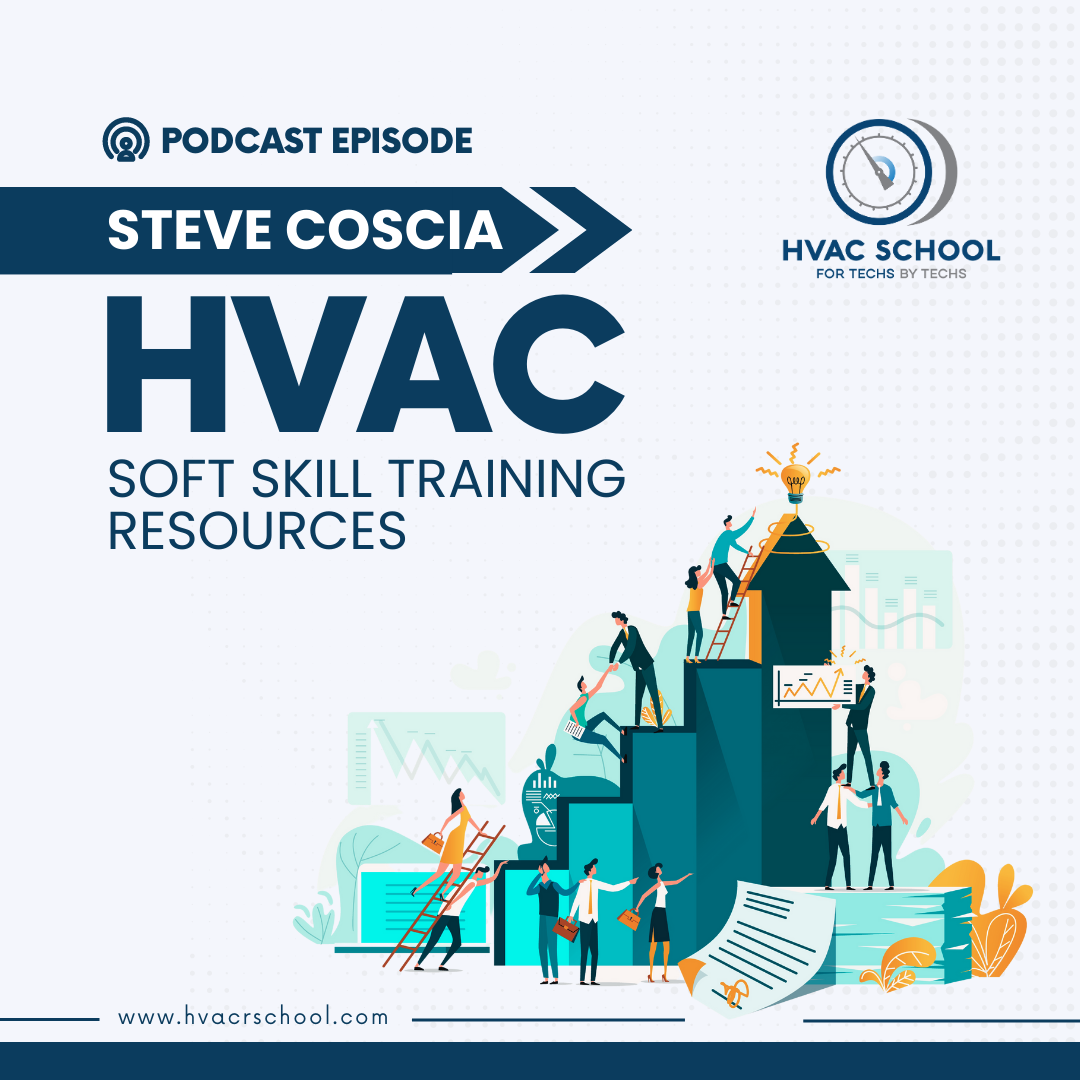 This episode of the HVAC School podcast Steve Coscia's symposium presentation: HVAC Soft Skill Training Resources.
Likability is a superpower in any job that requires you to interface with customers or students. Every word and mannerism your customer or student sees will matter, and it's important to be likable. Those impressions can heavily influence their decision-making.
Making a good first impression is one of the most important areas where we can focus our soft skills, and being on time is an easy way to make a good first impression on customers. When we are pleasant and convey mastery of our craft, we become more likely to earn appreciation and respect from customers and fellow tradespeople.
Delegating the authority of the class is a soft skill that is important for instructors, as it encourages participation and lets a student be recognized by their peers. Telling a "signature" story, using props, and making the classroom interactive also help you convey useful information to your students and keep them interested. The objective is to get students to talk, and applying the "rule of 10" with these methods should help keep students' attention. Whether you're leading an employee meeting or training a class, don't be afraid to embrace your unique brand of teaching or leadership.
Steve also covers:
Lessons learned as a writer and instructor
"Overpreparation"
Humility
Using action-oriented language and being honest
Cleanliness and organization skills
Sharing information with coworkers
The Silo Effect
Editorializing and saying too much
Using proper grammar and positive words
Congruency
Integrity, self-control, and proactivity
Buying time and convenience-oriented customers
Learn more about Steve's training at https://www.coscia.com/, and be sure to check out his training series on ESCO Institute's HVACR Learning Network at https://hvacr.elearn.network/pages/coscia-communications.
Learn more about the HVACR Training Symposium or buy a virtual ticket today at https://hvacrschool.com/symposium.
If you have an iPhone, subscribe to the podcast HERE, and if you have an Android phone, subscribe HERE.
Check out our handy calculators HERE.