Back
Small System Vacuum Tip – Short 118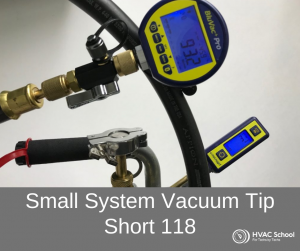 In this short podcast episode, Bryan goes over one of his most valuable tips for pulling a vacuum on a small system.
It can be very difficult to pull a vacuum on a small system, especially when you're dealing with a low-temperature application like a freezer. When you pull a vacuum, you're creating a low-pressure area that affects molecule behavior. So, you're creating a situation where the molecules push their way out of the system and into your vacuum pump. The low temperature and small tubing, especially capillary tubes, make this process exceptionally difficult. A very good vacuum pump can still have a hard time achieving a deep vacuum.
To make this process a little easier, Bryan likes to add heat. When you add a heat blanket around components with oil, you negate the low-temperature obstacle and make it easier to separate refrigerant from oil. You may also use a heat gun on areas where using a heat blanket is impractical. If the area is cold or has refrigerant and oil together, then you'll benefit from applying heat. Don't go crazy and use open flames, but a heat blanket or heat gun will usually be safe.
If you have an iPhone, subscribe to the podcast HERE, and if you have an Android phone, subscribe HERE.
Check out our handy calculators HERE.