Back
Samsung Ductless LIVE From AHR – Short #139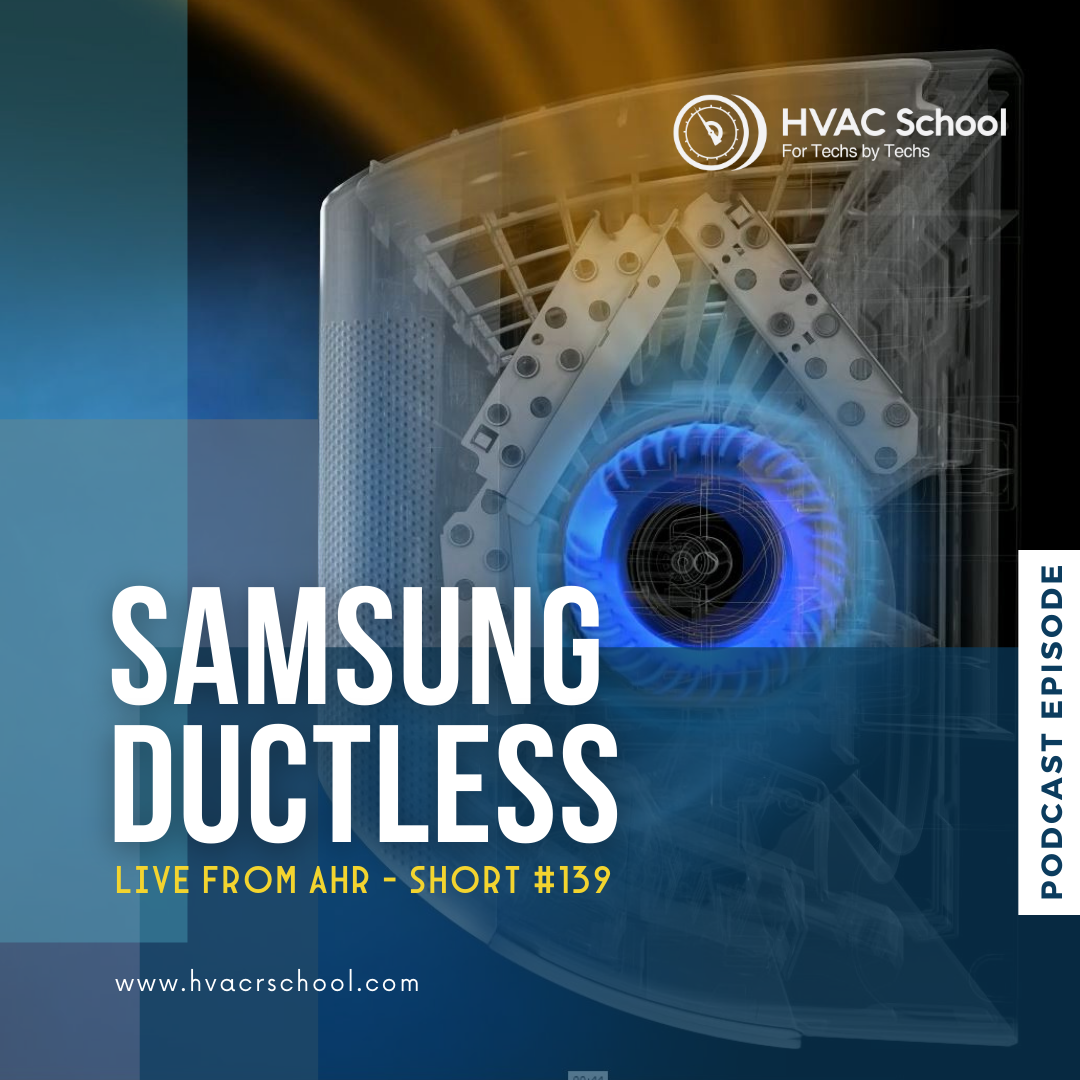 Rick Nadeau, Director of Training and Technical Services at Samsung, talks with Kaleb Saleeby live from AHR. He explains some of the exciting ductless solutions that Samsung has to offer.
Samsung's WindFree mini-split systems work with VRF systems or as normal ductless units. The WindFree product line is best known for preventing drafts due to microholes. These systems come in one-way and four-way cassettes and work very well for sensitive environments like nursing homes and bedrooms.
These units also have humidity sensors that let the units know when it would and wouldn't be acceptable to go into WindFree mode. Samsung's systems may also have occupancy sensors, which determine when they can turn on to provide comfort and flexibility. The systems also have the capability to determine when the system is losing refrigerant to prevent major environmental and performance issues.
Samsung has MaxHeat technology, which allows a system to have 100% heating capacity in low-ambient temperatures as low as -30 degrees Fahrenheit. So, the lack of reliance on auxiliary heat can reduce energy consumption and costs under most conditions.
In general, much of Samsung's innovative technology is introduced across entire product lines.
In the commercial sphere, Samsung's DVM S is an influential modular chiller and water heating system. Its flexible design (thanks to VRF technology) has made it a popular choice for product storage in vineyards. The DVM S Eco also has heat recovery capabilities.
Rick and Kaleb also discuss:
Stratification prevention and high-ceiling configurations
Air velocity and unit cleanliness
Refrigerant loss detection
Learn more about Samsung's ductless systems and online training programs at https://www.samsunghvac.com/.
If you have an iPhone, subscribe to the podcast HERE, and if you have an Android phone, subscribe HERE.
Check out our handy calculators HERE.