Back
Pulling a Vacuum 2.0 w/ Jim Bergmann (Podcast)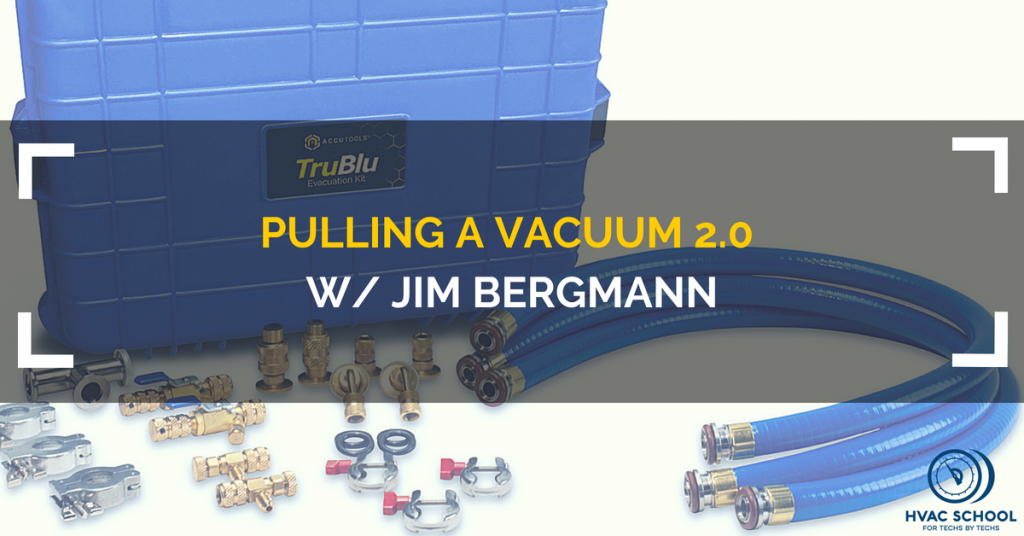 In today's podcast, Jim Bergmann joins us to talk about evacuation. He discusses pulling a vacuum, conductance speed, microns, core removal, decay rate, and all that other nerdy vacuum stuff. Jim has helped develop some new BluVac hoses with AccuTools, and he's here to explain why we need those. He also explains why we need to be more educated on evacuation.
While we have many good hoses today, we still have a way to go when it comes to moisture removal. Jim Bergmann has seen the need for more durable hoses that perform better when there's moisture and acids in the system. Pulling a vacuum that makes the system dry is crucial for that equipment's longevity. You cannot over-vacuum a system, so the deeper vacuum you can make, the better your evacuation will be.
Evacuation often takes place on new pieces of equipment, and some people worry that deep vacuums will compromise the oil quality of those new systems. That is actually not a real issue to worry about during evacuation, and it's a piece of misinformation that makes people misunderstand the importance of evacuation. Not enough people understand how evacuation works, and that is how misinformation and distrust around evacuation spread throughout the HVAC industry.
Evacuation best practices come down to the materials you use. We'd like to use a dedicated evacuation rig with the highest possible conductance speed. So, to achieve that, you'll want as few fittings/connections as possible and wide, short, high-quality hoses that are impermeable and leak-free. Remember to remove all Schrader cores and use your micron gauge away from the pump. Pull the vacuum down as deep as you can get it and do a decay test.
Bryan and Jim also discuss:
Degassing and dehydration
Best evacuation technologies of yesterday and today
Evacuation education gap
TruBlu hoses
Pressure, density, and air "thickness"
Moisture adhesion
Behavior of water
Hose ratings
POE oil and moisture
Learn more about Refrigeration Technologies HERE.