Back
HFC Phasedown W/ Jason O and Nathan O LIVE from AHR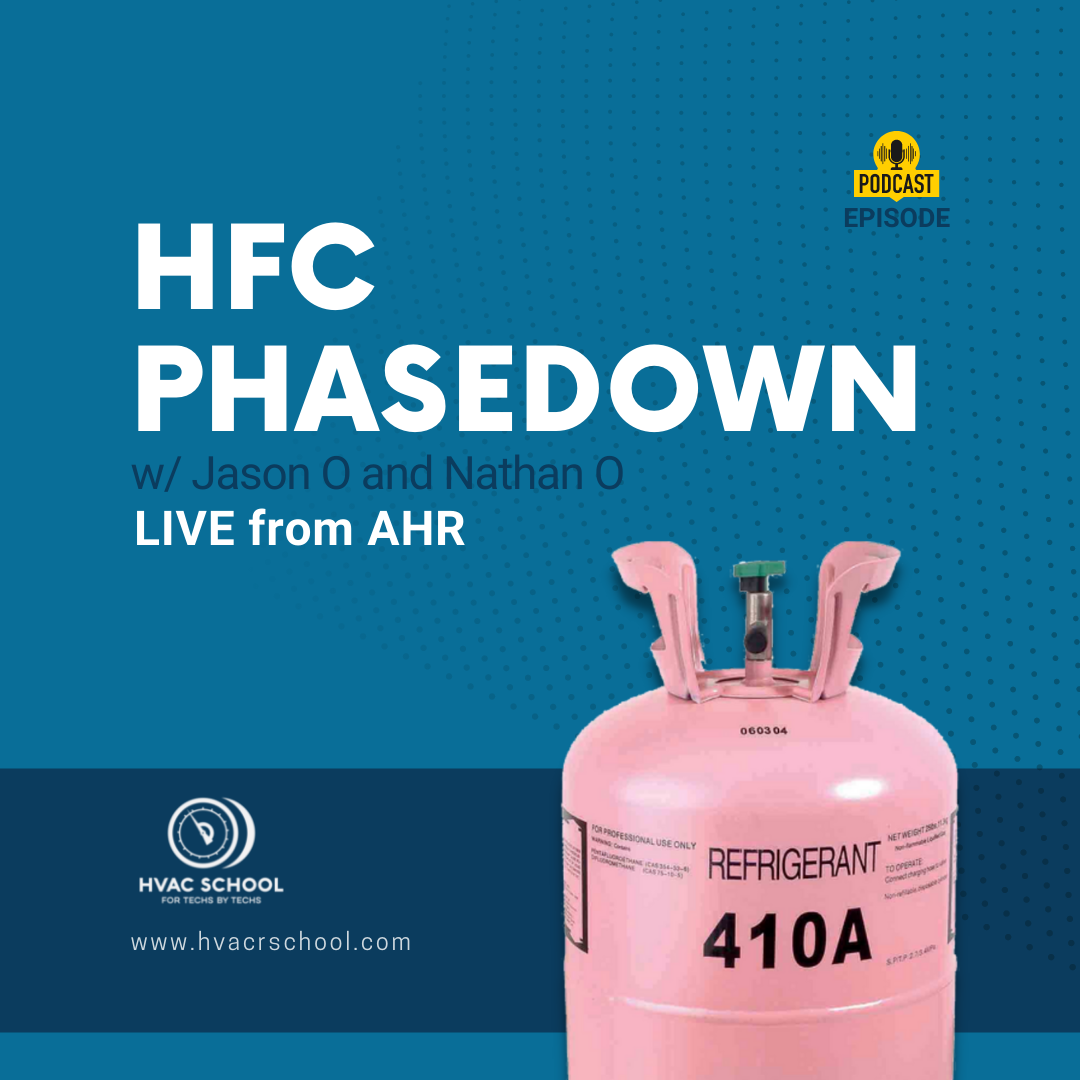 Jason Obrzut joins Nathan Orr with the HVAC School podcast live from AHR. In this episode, they discuss A2L refrigerants and upcoming regulations. They explain what a "flammable" refrigerant really is and why the industry may be making a bigger deal of the new regulations than is really necessary.
Whenever regulations are passed, we need to understand that there is a notable transition period. This period will mostly be about training, and the only people who should be working on the new equipment should be the most experienced technicians.
A2L refrigerants are mildly flammable, non-toxic refrigerants, including R-32. Flame propagation is possible but quite rare for A2L refrigerants under normal operating conditions. However, even A1 refrigerants can propagate flame under the right conditions (just not ones we'd normally see). Many countries all over the world have been using A2L refrigerants for much longer than we have, so we can make those refrigerants work safely.
All trades will evolve, and we need to be prepared and trained to adapt to changes over time. When we learn all the new practices that come with these new regulations, we become better technicians. The only place where we can make a difference is in our work, so it pays to focus on learning new things instead of resisting change.
Jason and Nathan also discuss:
A2L vs. A1 vs. A2 vs. A3 refrigerants
What does "flammable" really mean?
Recordkeeping regulations for A2L refrigerants
Getting over the fear of the unknown
Why the HFC phasedown is NOT driven by refrigerant manufacturer profits
Learn more about ESCO's HVAC Excellence conference HERE.
If you have an iPhone, subscribe to the podcast HERE, and if you have an Android phone, subscribe HERE.
Check out our handy calculators HERE.