Back
Filter Driers and System Protection – Short #169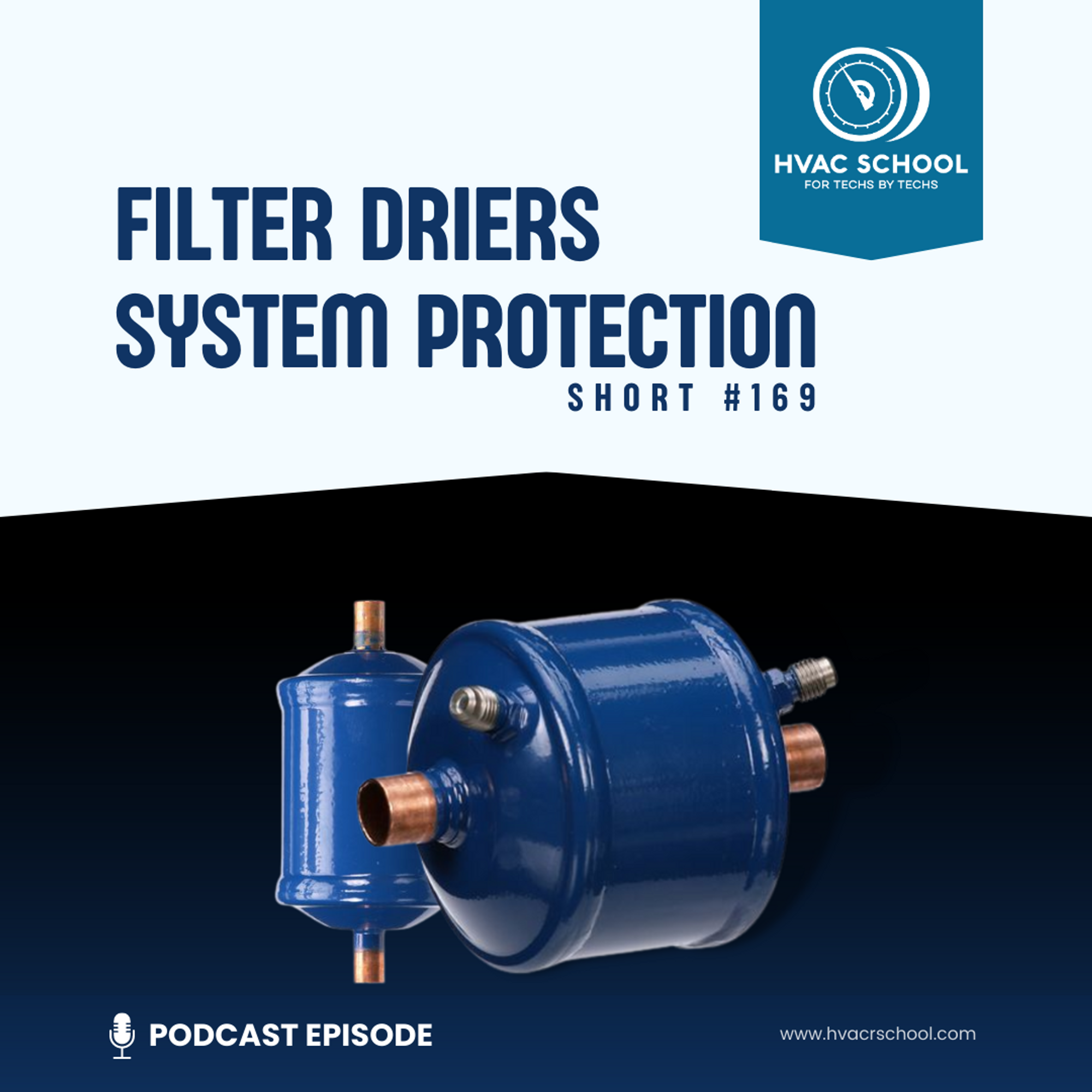 In this short episode, Bryan talks about filter driers and their important role in HVAC/R system protection, especially in accordance with Copeland's (formerly Emerson's) AE24-1105 R5.
We can really start keeping our systems contaminant-free by handling tubing properly, purging and flowing nitrogen, and keeping copper shavings out of the tubing when deburring or reaming. Suction and liquid filter driers protect the system during operation and are designed for specific purposes.
We typically don't install suction filter driers in residential systems unless we're fixing a system with compressor burnout or acid contamination; in those cases, we also want to make sure we replace accumulators and clean out the line set as well as we possibly can. Commercial refrigeration tends to have more rigorous contamination prevention protocols, including testing oil for acid and installing suction filter driers in everyday operation, due to the use of multiple compressors in a single system.
However, suction driers are recommended in ALL applications per AE24-1105. In many cases, we don't install them in systems because they can create a significant pressure drop in the suction line and damage the compressor, but suction filter driers can provide a net positive effect if we monitor them. We should install suction filter driers as close to the compressor(s) as possible, and we should cut them out when we need to remove them, not unsweat them.
Bryan also covers:
Liquid line filter drier placement
Pressure drop across filter driers and replacement thresholds
Burnout cleanup procedures
Filter drier sizing
Refrigerant additives
Motor burnout in hermetic refrigerant-cooled compressors
Electrical best practices
For more information about filter drier selection by model number, visit https://hvacrschool.com/copeland-driers.
Learn more about the HVACR Training Symposium or buy a virtual ticket today at https://hvacrschool.com/symposium.
If you have an iPhone, subscribe to the podcast HERE, and if you have an Android phone, subscribe HERE.
Check out our handy calculators HERE.