Back
Evacuation 101 w/ Jim Bergmann (Podcast)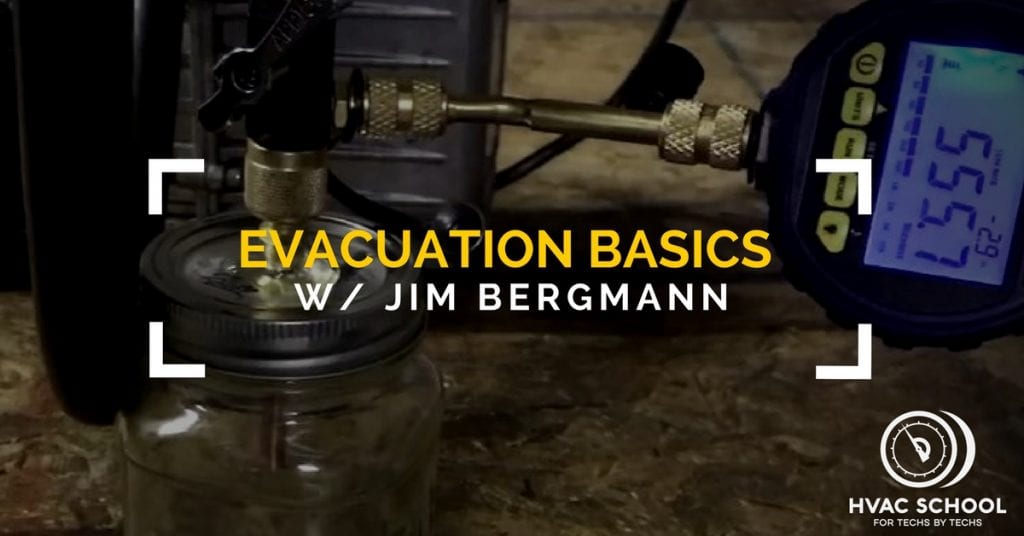 In this episode of the podcast, Jim reviews the basics of evacuation and dehydration. He also covers hoses and vacuum gauge placement.
Evacuation may just seem like a method to suck air and water out of a system. However, it is an intricate science that lacks a lot of detail in most trades education programs. The deepest vacuum we can possibly pull merely offsets the atmospheric pressure and is actually not that deep; the deepest possible vacuum is -14.7 PSI (-29.92″ Hg).
The evacuation rig is the most important element of evacuation. If you want a fast evacuation, DO NOT use 1/4″ hoses or manifolds. However, those are both common practices in the HVAC industry. The only way to increase the flow of refrigerant, air, and water out of a system is to increase the hose diameter. Larger hoses have less resistance than smaller hoses. Pump size does not seriously impact evacuation speed when compared to hose diameter and the presence/absence of Schrader cores. Schrader cores are other major sources of restriction, and you'll want to use core removal tools.
Air from a vacuum pulls in a localized area. As such, it is a BAD idea to hook your vacuum gauge up at the vacuum pump. You are measuring the pressure of the pump, in that case, NOT the whole system. When you read 500 microns at the pump, the real pressure of the system could be over 1000 microns (especially if you have 1/4″ hoses).
Bryan and Jim also discuss:
Atmospheric pressure
Connectors
What is a "good" vacuum?
Decay tests
Moisture throughout the system and its effects on decay
Water's state changes and vacuum
Sublimation and ice during an evacuation
Capping off, soldering, brazing
If you have an iPhone, subscribe to the podcast HERE, and if you have an Android phone, subscribe HERE.