Back
Changing HVAC Regulations w/ Chris Forth of Johnson Controls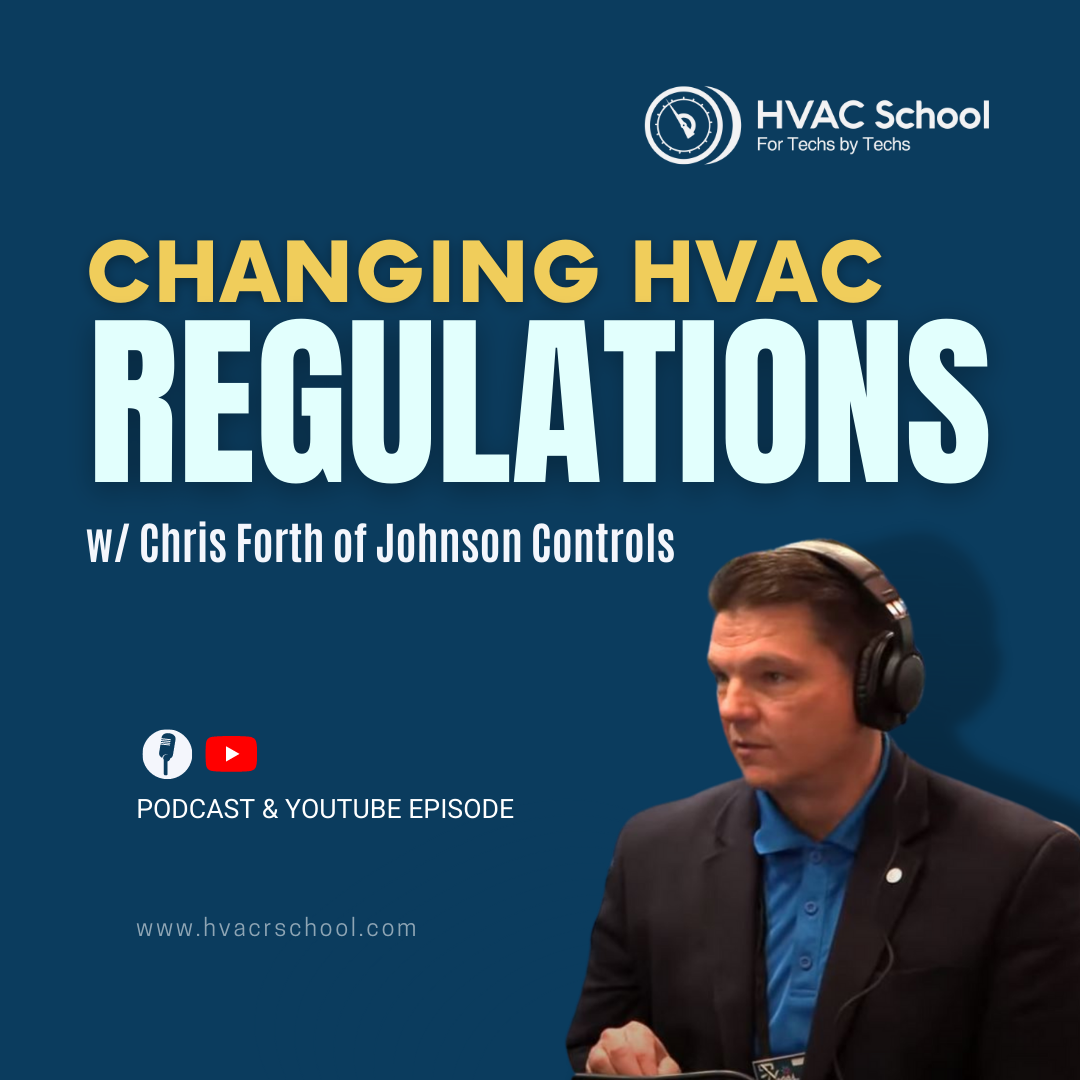 Chris Forth, the VP of regulatory codes and environmental affairs at Johnson Controls, joins Bryan for a live podcast at AHR 2022. This time, they discuss changing HVAC regulations and what that will mean for contractors, technicians, and installers.
Johnson Controls focuses on institutional chillers, controls with digital platforms, air handlers, filtration, and alarm systems. Lately, Chris has gotten the industry ready to convert existing products and systems to high-efficiency equipment for low-GWP, A2L refrigerants.
The transition to A2L refrigerants will be different from the transition from R-22 to R-410A. We needed to change the oil type (mineral oil to POE) and make equipment for different pressures when we went from R-22 to R-410A. However, the pressure and oil needs of A2L refrigerants are very similar to R-410A; the main obstacle is dealing with mild flammability.
Every six years, the U.S. Department of Energy (DOE) sets minimum efficiency standards, and they determined that it's time for an upgrade. In other words, 14-SEER straight-cool A/C systems will no longer cut it in some places. In the Southeast, equipment that doesn't meet the new standards must be INSTALLED before 2023. (In other cases, the date of manufacturing is what matters.)
Now, contractors need to be sure that they can install 14-SEER units before 2023 if they order them. Otherwise, contractors may be better off ordering 15-SEER units now to ensure that they can install the equipment.
Chris and Bryan also discuss:
North vs. south efficiency ratings
AHRI match
How manufacturers will be affected by these regulations
American Innovation and Manufacturing Act (AIM Act)
The self-extinguishing properties of A2L refrigerants
Learn more about Johnson Controls at https://www.johnsoncontrols.com/.
If you have an iPhone, subscribe to the podcast HERE, and if you have an Android phone, subscribe HERE.
Check out our handy calculators HERE.