Back
Bonus – Tips from a VRF Tech w Alex Figueroa (Podcast)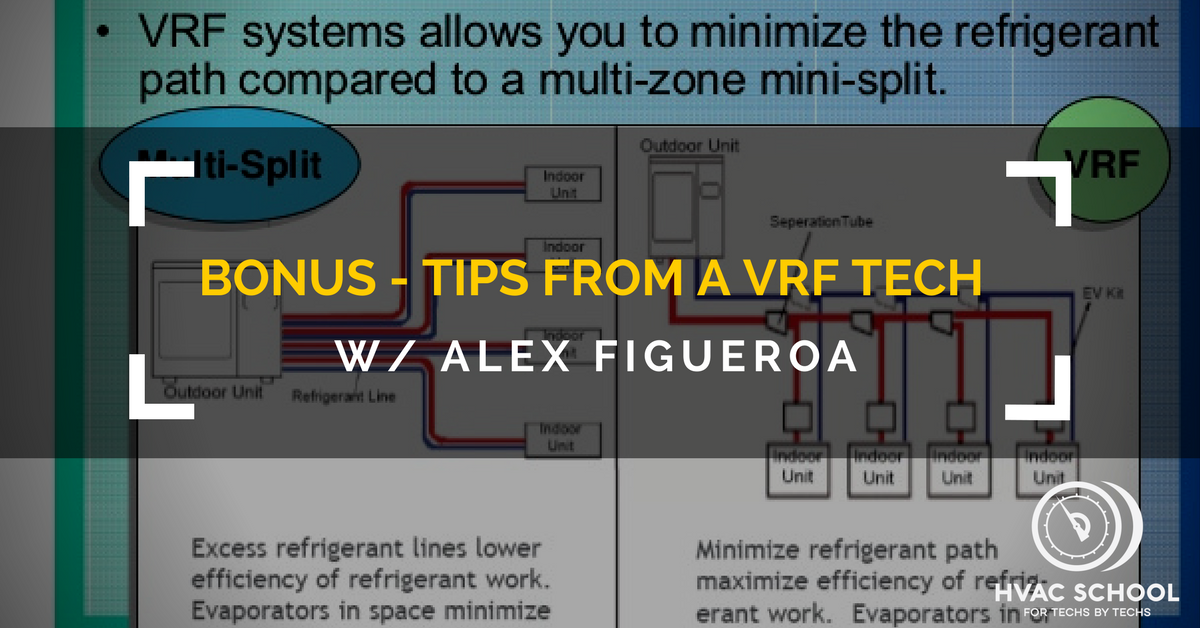 Alex Figueroa is a VRF and refrigeration tech in Puerto Rico, and he talks to Bryan about his work and specialized experiences. Since Mitsubishi is a forerunner in the ductless industry, many of the units that Alex has worked on are Mitsubishi units.
Alex works on lots of ductless mini-splits and VRFs in central air in commercial buildings. He typically works on VRF units that have ceiling cassettes or fan coils. Some VRF units also have branch boxes with electronic expansion valves (EEVs), and those components help distribute refrigerant flow. These systems have expansion lines, which some technicians may confuse for liquid lines.
As with other large commercial HVAC units, oil is also a concern in VRF systems. Smaller-tonnage systems have large accumulators, but larger systems may also have large separators. Some of these systems are large and may contain 200-300 pounds of refrigerant. Unlike many other HVAC units, these systems have an electronic interface that indicates superheat, subcooling, and other criteria that can help with charging and troubleshooting. (Techs can, however, hook up gauges at the condenser, but the practice is not often necessary.)
When you open up a VRF system for the first time, you will see lots of solenoids and other components that resemble refrigeration parts. Therefore, Alex felt that his experience as a refrigeration technician benefited him as he began working on VRFs. Like heavy refrigeration (especially grocery refrigeration), VRF systems may have several compressors and refrigerant circuits in a single system. Digital scrolls are common compressor types for these systems.
The greatest maintenance issues with VRFs deal with are dirty evaporator coils and filters. In Alex's experience, the electric controls are the most commonly failed component.
If you have an iPhone, subscribe to the podcast HERE, and if you have an Android phone, subscribe HERE.