Back
Why A/C Units Freeze w/ Eric Shidell (Podcast)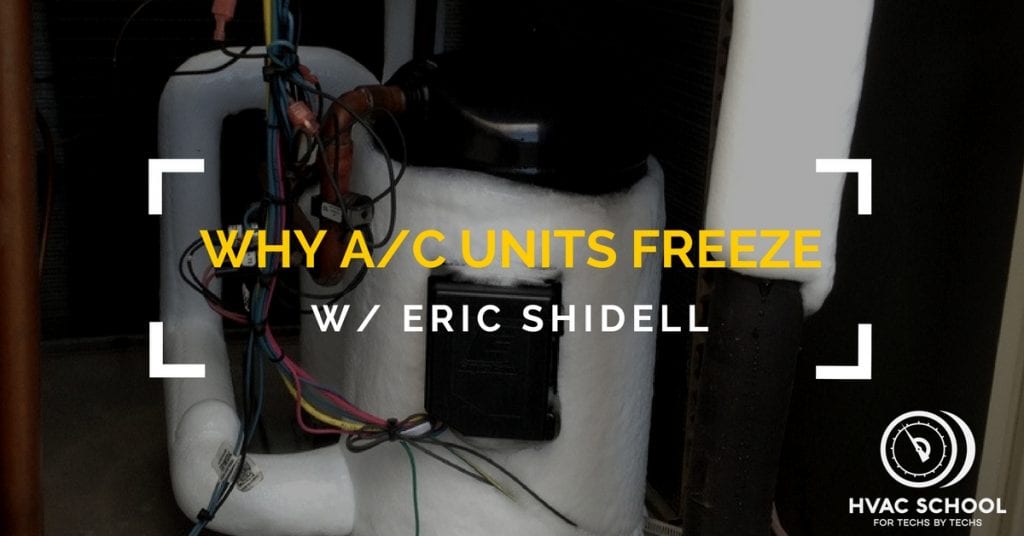 In this episode, Bryan speaks with Eric Shidell about some of the basics of system freezing, what causes it, and what to do about it.
Freezing is a normal part of some equipment, such as low-temperature freezers and outdoor units on heat pumps. On straight-cooling systems, freezing is NOT normal and indicates poor operation. Ice formation starts on the evaporator coil and may spread to the compressor via the suction line. The best way to remove ice and defrost the system is to pull the disconnect on the outdoor unit but let the indoor fan keep running. Or, you could turn the unit off but leave the fan on.
The goal is to defrost slowly and steadily. Defrosting too quickly could potentially cause damage. Horizontal air handlers in the attic can flood the home if ice forms and melts off too quickly. In an upflow furnace, defrosted ice could damage the electrical components.
You will typically find low suction pressure on frozen systems. Many technicians who merely attach gauges and don't thoroughly inspect the unit for freezing will mistake the low pressure as a result of a low refrigerant charge. However, low pressures are a SYMPTOM, not the cause of freezing.
Freezing is generally caused by poor airflow over the evaporator coil. As frost appears on the evaporator coil, airflow will be further impeded. On top of that, the suction pressure drops even more. From there, all of these factors feed each other and cause the frost to snowball out of control (almost literally). Sometimes, coils may freeze due to low refrigerant, but the amount of ice will typically be minimal compared to freezing that occurs due to an airflow issue.
If you have an iPhone, subscribe to the podcast HERE, and if you have an Android phone, subscribe HERE.