Back
Santa Fe offers the industry's most complete line of whole house ventilating dehumidifiers. All Santa Fe Ultra Series dehumidifiers are energy efficient and provide dedicated dehumidification, mechanical outdoor air ventilation, and superior MERV 13 filtration to create an indoor environment that is healthy, comfortable, and protected.
---
When it comes to protecting your family and property from the harmful effects of excessive moisture, you should never settle for anything but a Santa Fe. That's because we take great pride in engineering products that set the standard in dehumidification for the entire home. It's not only our mission, it's our passion.
Assembled in Madison, Wisconsin, our dehumidifiers are commercial-grade, easy to install and feature unparalleled air filtration — giving you peace of mind in knowing that the air circulating throughout your home is clean, pure and safe. After all, 50% of the air in your home's upper levels originates from the basement and crawl spaces.
In addition to the Santa Fe product line, Therma-Stor® also assembles the Quest™ industrial climate control solutions and the Phoenix™ line of restoration equipment.
Santa Fe Connect App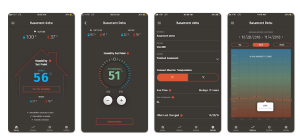 Monitor and control your Santa Fe Dehumidifier through the Santa Fe Connect app!
The Santa Fe Connect allows you to control, monitor and live with peace of mind that your home is protected.
With the Santa Fe Connect app you can:
Control your dehumidifier remotely:
• Turn your dehumidifier on and off
• Set your Relative Humidity