Get Tech Tips
Subscribe to free tech tips.
Flex Ducts – Best Practices
Some techs and contractors swear that flex ducts are an evil invention and should never be used in ANY circumstance. I agree with what duct design expert Jack Rise said on the podcast when I asked him about flex ducts:
"There's a lot of problems with flex duct, there really is, and it's a good product, but we abuse it… It's a good product, it's just poorly handled."
While the proper sealing of ductwork in unconditioned spaces is nearly universally recognized as important, a flex system rarely gets installed properly in these other important areas.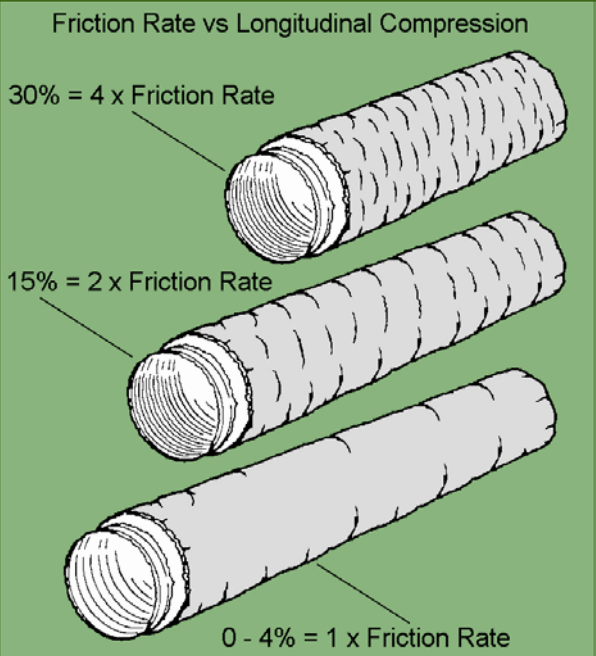 Fully Extend the Flex 
Some guidelines suggest pulling a 25′ piece of fully extended flex for one full minute before attempting to install it. That reduces the compression and the depth of the corrugation (the accordion spiral inside the duct). The more compressed the duct is when installed, the greater the air resistance of the duct will be. The air duct council states that 30% of compression can result in 4 TIMES the air resistance. That means that fully extending the flex is a big deal, and it may be one of the most overlooked aspects of flex system installations. Cutting off that 2-6′ of extra flex at the end instead of just "using the whole bag" can make the difference between a good and a poor duct system in many cases.
Strap and Support the Flex 
Jack Rise spoke about how he tested a duct and measured a 0.2″ wc change in static when he altered a duct from sagging to being properly strapped. In retrofit applications, many companies focus on "sealing" connections. However, they often don't truly address sagging ducts with proper strapping. The allowable amount of sag is only 1/2″ per 4′ of length, which isn't much. Don't ONLY rely on the code required strapping in your jurisdiction; just because a system passes inspection doesn't mean it's installed correctly.

Keep the Curves to a Minimum 
When designing a duct system, you must calculate TEL (total effective length), not just length. In a flex system, each curve has a HUGE impact on the TEL, and when a field install doesn't match the design, it can throw the whole system out of whack both from an air balance standpoint as well as a system performance by increasing the TESP (total external static pressure). Every bend and angle matters, so keep it extended, properly routed, and well supported, and all will be well so long as the design is correct.
Seal all the connections
As with all ducts, the connections need to be well sealed. With flex, this will generally need to be done with mastic, and the BEST way is to fully seal and allow the inner liner to dry before pulling the insulation over the connection. Also, keep in mind that leaks, where the boot/can meet the sealing, are very common leak points, and it's a good idea to seal them from the inside or outside to the final floor or ceiling before installing the grilles.
For more info, go to the ADC (Air Duct Council) website at flexibleduct.org or download their excellent guide HERE.
—Bryan
Related Tech Tips