Get Tech Tips
Subscribe to free tech tips.
EPR valves 101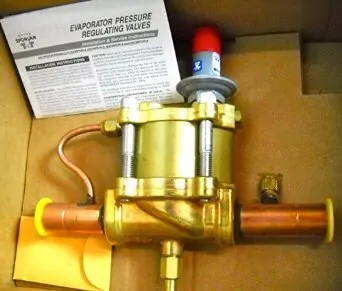 I don't do much in the way of "rack" refrigeration. However, I recently had a conversation with experienced rack refrigeration tech Jeremy Smith, and he got me thinking about EPR valves.
I've heard EPR (evaporator pressure regulator) valves called suction regulators or hold back valves. In essence, they hold back against the suction line to maintain a set temperature for evaporation or boiling in the evaporator.
In refrigeration rack systems, EPR valves play a vital role in ensuring that the product is cooled consistently and nearly constantly.
In an A/C system, we have a TXV that maintains a constant superheat at the evaporator outlet. The evaporator temperature itself will fluctuate up and down depending on the load.
In a refrigeration case, you must first ensure you have a full line of liquid using a sight glass or by checking the subcooling. Then, you make sure the case has proper airflow, etc. After that, you set the EPR to maintain the proper coil evaporation temperature (by holding back pressure as needed), and then you check and/or set the TXV to the proper superheat. This procedure ensures BOTH proper coil feeding as well as proper coil temperature.
Pretty cool, right? (Pun intended.)
—Bryan
Related Tech Tips