Get Tech Tips
Subscribe to free tech tips.
Drip Loops and Straws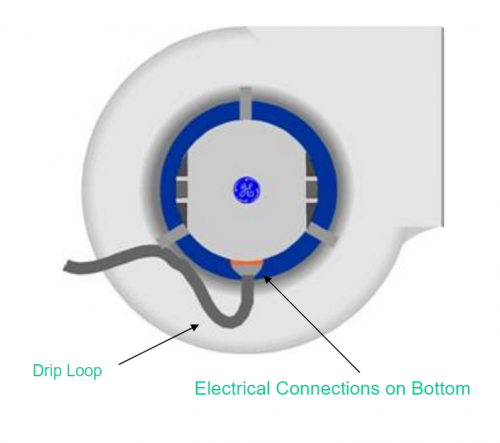 Many of us are aware that X13 and Fully variable motor failure has peaked over the last few years, and I'm sure there are multiple reasons for that. One of the reasons is fairly simple and can be traced back to two simple installation and service practices that can be easily implemented.
Seal all air handler/furnace/coil penetrations
Use drip loops on wires entering the motor
Eliminating "Straws"
Straws are openings in the cabinet that are unsealed and "suck" moisture into the system. That moisture can cause condensation on the interior surfaces. These "straws" can be copper penetrations, drain port openings, and electrical penetrations.
The presence of straws is a bigger factor on fan coil systems and package units than on furnace/coil systems. That's because, in a fan coil or package unit, warm/moist air can more easily be drawn in after the coil and before the blower.
When unconditioned air enters into the system due to these penetrations, it can cause mold, short circuits, and corrosion. This moisture can also gather on wires and drip into electrical connections, causing issues with motors and control panels.
Make sure to seal any penetrations into the conditioned compartments of equipment with proper rubber grommets or, in some cases, silicone or thumb gum can be used.
Wire Drip Loops 
Anytime a wire enters a plug, board, or motor, it is best to either locate the connection facing down to prevent water from entering or make a drip loop before the connection point. That allows moisture to drip off of the wire before entering the connector or device.
These issues have been identified as causes of X13 and ECM motor failure, and checking these two areas can be very helpful in preventing future failure.
—Bryan
Related Tech Tips