Get Tech Tips
Subscribe to free tech tips.
Drains and Double traps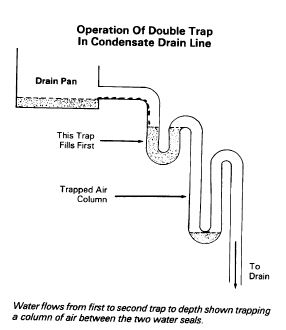 Double traps are no good. That's the end of this tech tip.
Okay, here's some detail:
Anytime your drain goes up and down more than once, you have a double trap UNLESS you place an air vent between the two traps that vents ABOVE the drain inlet.
The double trap causes drainage issues because air becomes trapped between the two traps, and air is lighter than water. That causes the air to travel up as the water flows down, resulting in NO DRAINAGE.
A vent allows the air to move instead of becoming trapped. That is why you vent a drain after the first trap if there is another trap or the potential of another trap.
That is also why you vent a drain after the first trap and before a common drain if you connect more than one drain. It helps prevent the possibility of a double trap, thus preventing a nasty backup.
In general, just pitch the drain properly, install only one trap, and don't interconnect (unless required). Do those, and you will have no problem.
That was easy!
—Bryan
Related Tech Tips