Get Tech Tips
Subscribe to free tech tips.
Crankcase Heaters and Single-Pole Contactors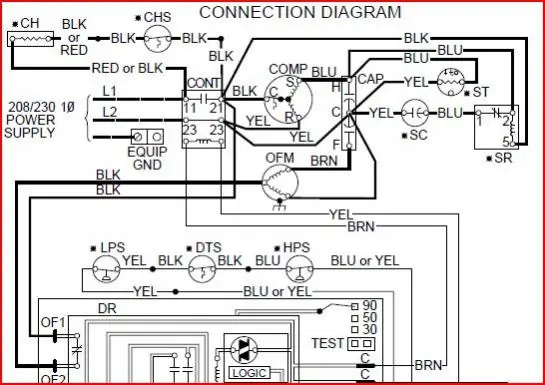 We keep two-pole, 40-amp 24v coil contactors on all of our vans. They are versatile and reliable, and you can replace most residential A/C contactors with them.
There are a few things to watch for, though, especially when you have a crankcase heater. Many brands power the crankcase heater constantly and shut it on and off with a thermostat, often mounted on the discharge line (looking at you, Trane). When you replace a single pole with a two-pole contactor in this type, you need to make sure you connect BOTH sides of the crankcase circuit across the L1 and L2 line side of the contactor to ensure the heater can function when the compressor is off.
Want to know something even more confusing than that? Look at the diagram at the top. Focus on the top left part of the diagram where the crankcase heater is located…
How do you think that works? I will wait while you think it through. Don't cheat. Look at it.
This is a common Carrier heat pump crankcase heater configuration.
You notice that one side of the heater goes to L1 line side Terminal 1, and the other side is going to L1 load side terminal 2.
So, the crankcase heater ONLY functions when the compressor contactor is OPEN. Even then, it does so by back-feeding through the compressor common and back through the run winding of the compressor to the constant powered L2 side of the contactor.
This means if you replace this contactor wire for wire with a two-pole contactor, the crankcase heater will never work. You must put the compressor run wire (yellow) to the bottom of the contactor (L2 line side) instead of the top, as it should be if you want the crankcase heater to function in this situation…
All of this is to remind you: DON'T BE A PARTS CHANGER! Know what you are replacing, why you are replacing it, and what each wire and component actually does.
—Bryan
Related Tech Tips