Get Tech Tips
Subscribe to free tech tips.
Boiler Basics Part 1 – Types and Components
This series of articles is written by senior boiler tech (and all-around swell guy) Justin Skinner. Thanks, Justin.
---
There are quite a few different types of boilers out in the world. They come in all shapes, sizes, pressures, and types of fuel burned. I'm going to go over some of the more common ones, their common components, and why it all matters.
First, let's establish what a boiler is. A boiler is defined as a fuel-burning apparatus or container for heating water, in particular. The "in particular" part is thrown in there because many boiler systems heat a fluid other than water: glycol, oil, and process chemicals, to name a few. But, to keep things fairly simple, we will stick with water. So, your basic boiler burns a fuel source to heat water. A water heater, basically. But water heaters are used to produce domestic hot water for showers, sinks, and some other typical household hot water uses. Boilers are used to produce hot water for space heating purposes, dehumidification, and other processes (or even potable water indirectly through an exchanger).
For residential and commercial/industrial purposes, there are 2 types of boilers. The most common is the fire-tube design. This design would include the common sectional-type boiler seen in most residential applications. The fuel is burned, and the hot gases pass through a series of flue passages or tubes that are generally steel. The steel composing the flue passages or tubes is heated by the gases passing through. This area does not contain any water, only heat and combustion gases. Water surrounds the flue gas area but does not actually enter the area. Heat transfer to the water occurs primarily by conduction. The steel comprising the flue passages becomes heated and transfers the heat to water.  Hopefully, the illustrations below can help.​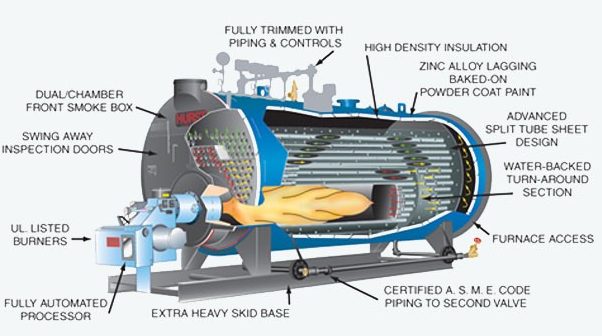 Commercial-style fire-tube
 ​Residential-style sectional; note the flue passes
As you can see, the tubes or sections that contain the hot flue gases are surrounded by water, which is how these boilers transfer heat to the water. The passages that contain the hot gases also act as the heat exchanger in the boiler. The FIRE (flue gases) is contained in the TUBE (tubes or passages).
A water-tube boiler is typically used in commercial and industrial applications; they are not common in residential applications. As the name implies, the tubes contain the water being heated and are surrounded by hot combustion gases. This type often looks like a rectangular box with a burner mounted to it. It's virtually a large fire box with water tubes.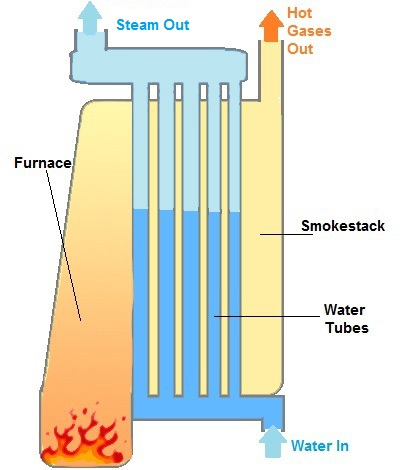 Water-tube boiler design
What's the difference in application, and why use one type over the other?
Water-tube boilers are generally considered safer. They contain much less water than fire-tube ones, so if a disturbance occurs (tube breaks, boiler meltdown), there isn't as much water/steam to have the potential to escape the boiler.
The main determining factor of water or fire-tube is application. Water-tube boilers can handle much higher pressure ( 1000s of psi), and fire-tube boilers generally aren't designed to be used over 350 psi. Water-tube boilers are available in much larger capacities than fire-tube boilers and can recover much faster from a large increase in load demand from a pressure standpoint. That means that if the pressure drops on a fire tube boiler, it takes longer to come back up than on a similarly rated water tube boiler. Fire-tube boilers typically have lower operating and maintenance costs, have easier access to the fire and water sides for inspections. It's also much easier to replace tubes on a fire tube than a water tube. Generally speaking, if you have fluctuating demand and large swings in steam requirements, a water-tube boiler is probably a better fit. If you have a pretty constant load requirement without a lot of swing in steam demands, a fire-tube boiler will work fine. My next article will cover boiler components and safeties.
—Justin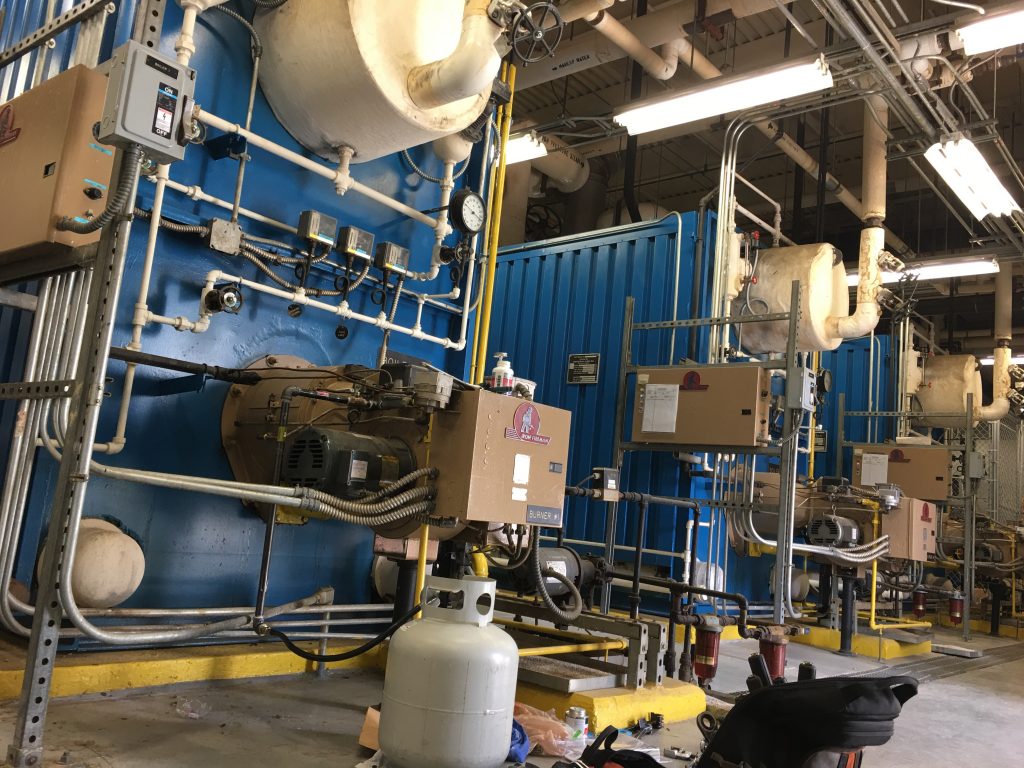 Water-Tube Boilers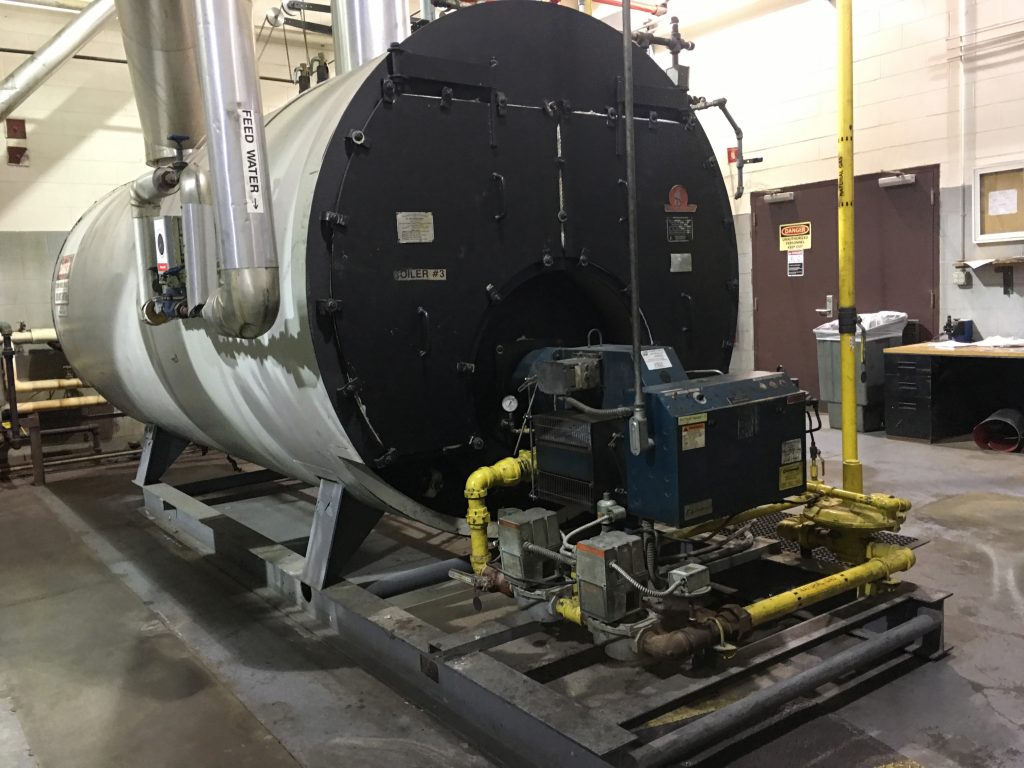 Fire-Tube Boiler
Related Tech Tips