Get Tech Tips
Subscribe to free tech tips.
Accumulator & Burnout Considerations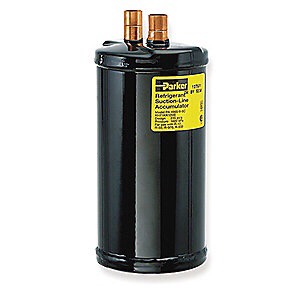 The suction line accumulator is designed to keep liquid refrigerant from entering the compressor while still allowing for oil return.
The trouble is that if the oil return port/screen clogs, the accumulator can fill with oil and actually cause the compressor to fail. In addition to that, it can hold contaminated oil in a burnout.
As standard compressor replacement practice, you may want to consider removing the accumulator and dumping (properly disposing of) excess oil to remove contamination, check for excessive oil buildup, and acid-test the oil.
In the case of a bad burnout, it may be best to replace the accumulator completely and take the other burnout protocol measures.
Here is a great video on accumulators from AC Service Tech:
Louie Molenda also wrote an excellent HVAC School article about suction line accumulators a while back. You can find that article HERE.
—Bryan
Related Tech Tips