Get Tech Tips
Subscribe to free tech tips.
A Great HVAC Training Solution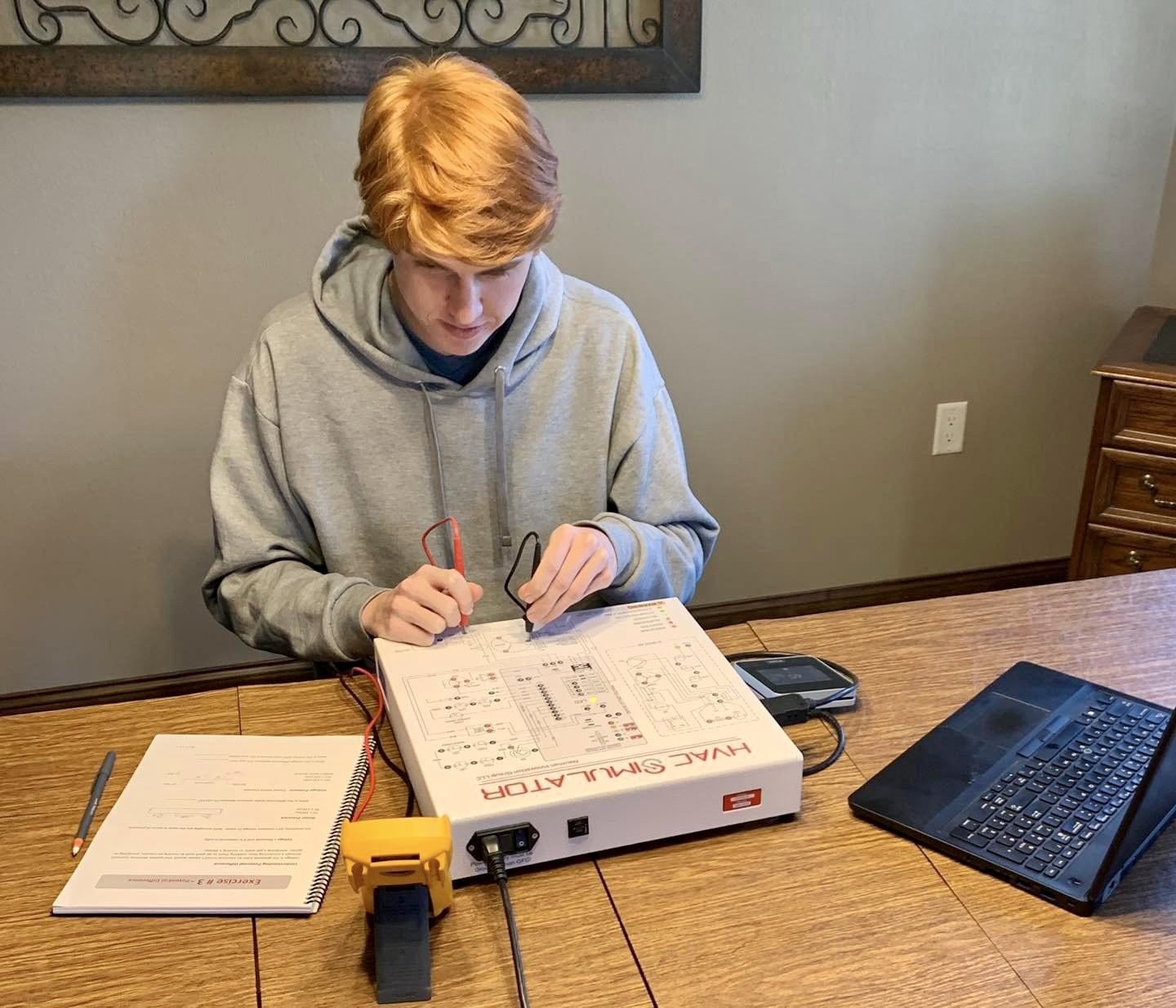 DISCLAIMER: I have no financial interest in HVAC Simulator or Dirk's company, Nauman Innovation Group LLC. He is not a sponsor; I just think he's a great guy who cares a lot about the industry, and I'm excited to share his work with other people who want to improve training and education in the skilled trades. He does a lot of great work teaching young people and the incarcerated population about trade skills that can help them get a fulfilling job in the next chapter of their lives.
---
As you probably know, I was recently at AHR 2023 in Atlanta, and it was a great experience, as always. You can check out our YouTube channel for some of the highlights, including live streams with Tony Gonzalez (Fieldpiece), Jim Bergmann and Joe Medosch (measureQuick), and Mike Pastorello (Refrigeration Technologies).
But one of my favorite things about this year's AHR Expo was the opportunity to co-teach an electrical troubleshooting fundamentals class with Dirk Nauman. Dirk is the founder of the HVAC Simulator, a set of training tools for apprentices and trade school students who want to get better at understanding the fundamentals, such as reading schematics and the electrical and refrigerant troubleshooting of HVAC systems.
This quick tech tip will go over the unique features of the HVAC Simulator and explain how it works as a training tool. I will also include a link to the free trial of the digital version at the end. 
What is the HVAC Simulator?
The HVAC Simulator is a simulation tool that combines hands-on training and schematic reading. It allows its users to check fault codes and pick up electrical readings of components with a multimeter as they would in the field; however, users are working on an interactive schematic diagram instead of live equipment. This tool builds its users' understanding of the relationship between the schematic and electrical field components.
Using a multimeter, users will measure voltage, resistance, or microamps from over 60 different points on the simulator. The HVAC Simulator also comes with an LED fault indicator and mimics several fault conditions, from open compressor windings to a dirty flame sensor.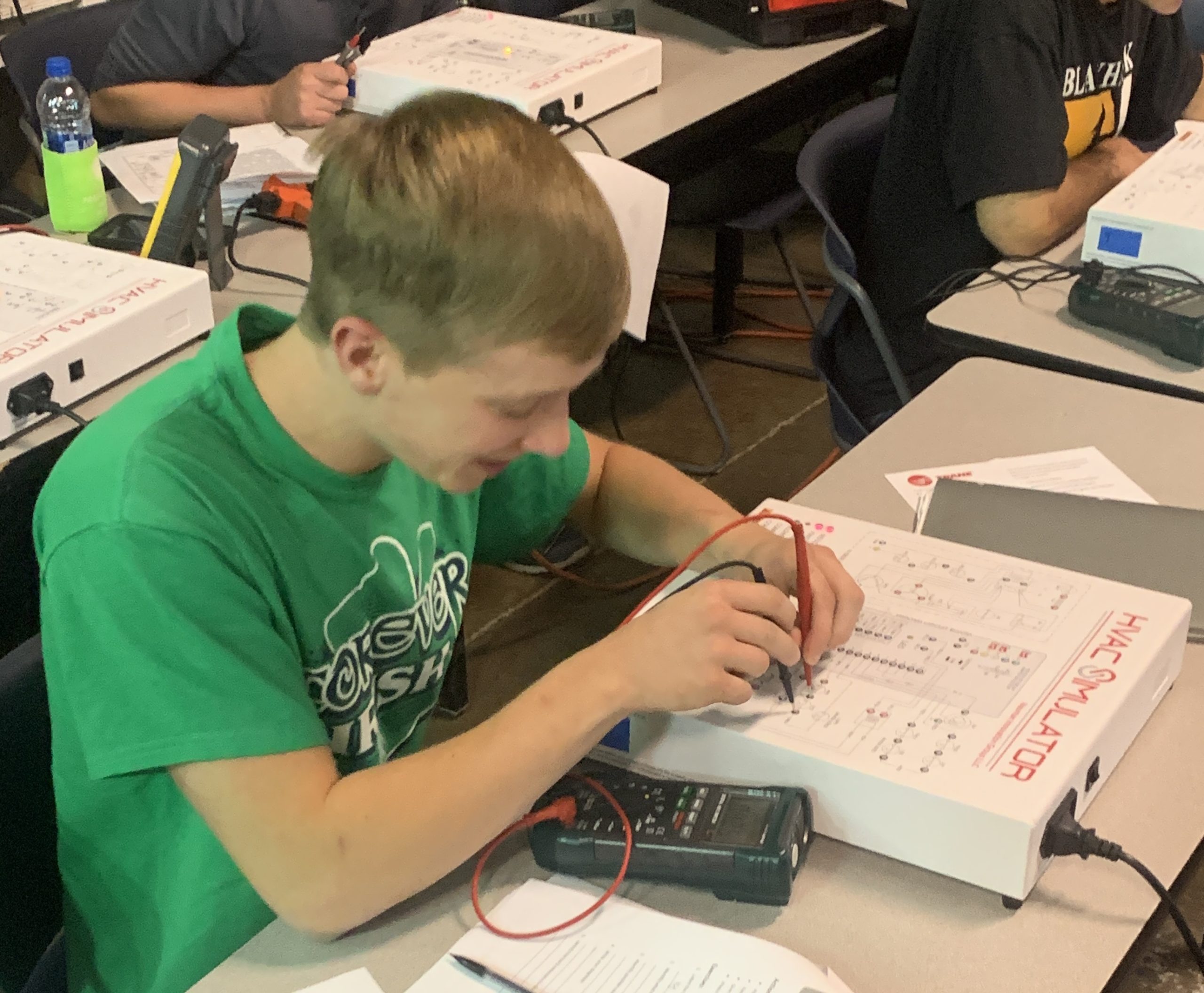 Above all, it's a teaching tool that allows students and entry-level technicians to understand the electrical fundamentals of HVAC troubleshooting, improve their ability to read schematics, and boost their confidence using a multimeter in a safe, controlled environment. 
Multiple Versions of the HVAC Simulator
Different versions of the HVAC Simulator resemble different brands of equipment; for example, one of them simulates Carrier, Bryant, Payne, and ICP R-Series gas furnaces. The other model resembles other ICP equipment (Comfortmaker, Heil, Tempstar, etc.).
The HVAC Simulator comes in a desktop (physical) and digital format. There is a total of 32 total fault conditions in the desktop format: 16 heating and 16 cooling. The digital version has 16 heating faults only. Since it's impossible to use a physical multimeter on the digital version, users can click on the different points of the simulator to see voltage, resistance, or microamp readings on a digital multimeter.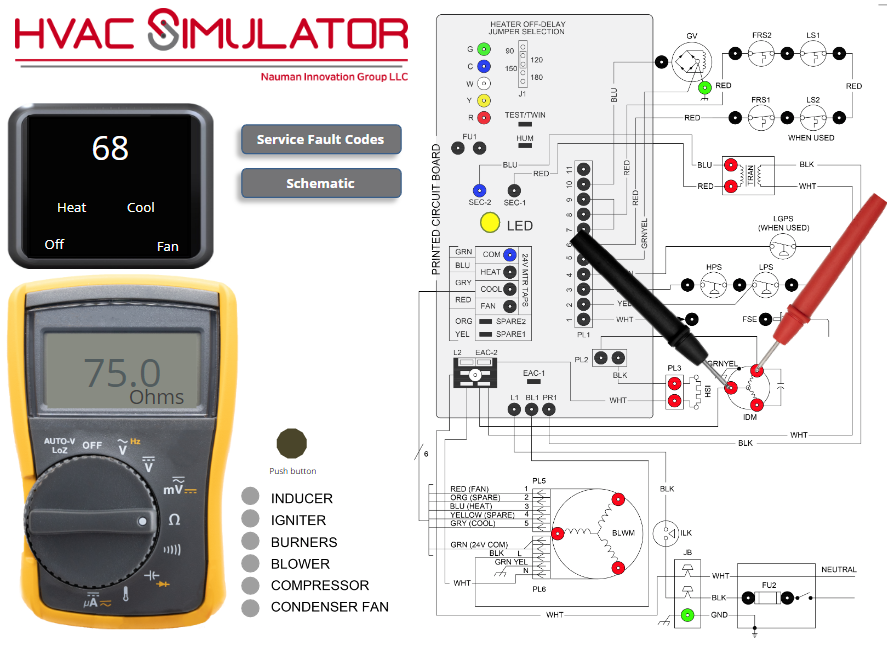 Dirk and I used the desktop version at AHR; this version is most common in the HVAC Simulator workshops. However, the digital version comes with a curriculum that includes explanations, allowing students to reinforce what they've learned through some self-directed practice. 
The digital version pairs with the curriculum to allow students and technicians to complete a workbook; this workbook serves as a walkthrough and allows students/technicians to fill out their findings for the various fault scenarios. There is also the option to purchase an Instructor's version of the digital HVAC Simulator, which comes with a curriculum guide. 
A 30-day free trial of the digital version is currently available through ESCO Group and RSES's HVACR Learning Network; this version is the Carrier, Bryant, Payne, and ICP R-Series version.
What is the training structure like?
The HVAC Simulator is typically used in trade/vocational schools, high schools, and private contractor or manufacturer training. So, the digital or desktop HVAC Simulator is meant to be incorporated into a training program, especially as a pre-lab exercise; this allows students or apprentices to get experience before working on live equipment. 
Another neat thing about the HVAC Simulator is that Dirk brings it into correctional facilities. Its group training capabilities allow him to teach incarcerated people some valuable skills to help them find good, fulfilling jobs after prison or rehabilitation.
Trainers and trades educators may use the curriculum provided in the manual that comes with the desktop version or the instructor's version of the digital HVAC Simulator. Alternatively, contractors and trade schools may request an HVAC Simulator trainer to come in and lead the training.
The student/technician digital version may also be used as a supplementary practice tool, but it's most beneficial when paired with the corresponding workbook. Even though the digital version allows for some degree of self-directed study, the HVAC Simulator is NOT meant to be a self-study tool for people who aren't HVAC professionals or trade school students.
Free Trial
The digital free trial is clearly limited in its features, but it still offers educational videos and practice problems. It does not come with a workbook, but it allows you to see how the digital simulator works and interact with it. 
The free trial has three parts: the introduction, exercises, and practice; it represents 25% of the full curriculum.
The introduction includes links to the manufacturer literature (in this case, Carrier, Bryant, Payne, and ICP R-Series), terms and conditions, and a tutorial explaining how to use the digital simulator.
Then, the exercise section includes informative videos and a guided walkthrough of a working system on the digital simulator. Three educational videos focus on the furnace sequence of operations, the electrical sequence of operations mapped on a schematic, and how to measure potential difference with a voltmeter.
Finally, there are 4 different fault scenarios that allow the user to apply what they've learned.
Where can I get the free trial?
You can access the 30-day free trial at https://hvacrschool.com/hvac-simulator. You will have access to the trial for 30 days before the demo expires; you won't have to pay anything or include your credit card information to access the free trial. 
To browse all versions of the Carrier-Bryant-Payne HVAC Simulator on the ESCO Institute Learning Network, visit https://hvacr.elearn.network/collections/hvac-simulator-heating-carrier-bryant-payne. 
Even though you won't see the HVAC Simulator's full training capabilities, you can expect to get a taste of the conditions it mimics, the concepts it teaches, and how it works.
You can learn more about the HVAC Simulator itself at https://www.hvacsimulator.com/. 
—Bryan Orr
Related Tech Tips