Back
Short #22 – Mineral & POE Oil (Podcast)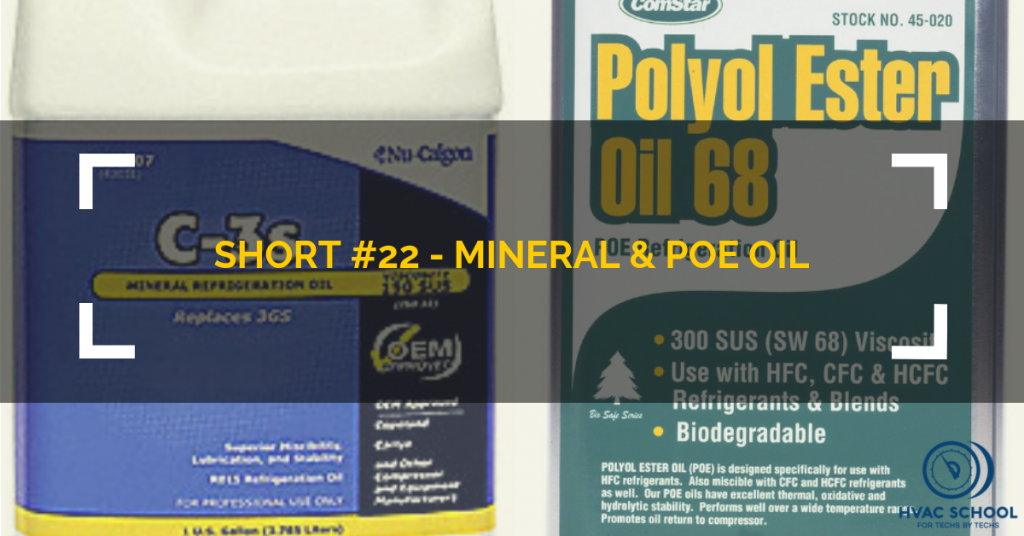 Bryan talks about the differences between mineral oil (MO) and POE oil, the advantages and disadvantages of using them, and when to use them.
Mineral oil (MO) is what we've used for a long time. We like using it because it's very stable; it may have an affinity for moisture, but it is not nearly as hygroscopic as POE oil. Vacuum pump oil is a highly refined mineral oil, and it works so well because it's able to lock in moisture as those non-condensables get sucked out of the system. It is still not much of a solvent compared to POE oil, though.
However, the refrigerant may have a hard time carrying mineral oil through the system. So, pipe size, pitch, and trapping are important considerations when you're dealing with mineral oil.
POE (polyol ester) oil works much better with newer refrigerants, especially R-410a. These new refrigerants can't carry mineral oil effectively, and so they rely on POE oil, which moves with those refrigerants a lot more easily and doesn't just sit in the evaporator coil. Oil should stay in the compressor, but oil loss will happen over time and should move back to the compressor with the refrigerant. POE oil works with new refrigerants, but it also works with R-22. Overall, POE oil is very miscible, which means that it moves with refrigerant very well.
However, POE oil is reactive and acts as a solvent. The POE oil can pick up contaminants a lot more easily than mineral oil, which can wreak havoc on your system. POE oil reacts with moisture to become acidic, which can lead to issues like burnout. (Note: POE oil does NOT react with mineral oil!)
Bryan also covers:
Refrigerant velocity
Oil return
Acid scavengers
Retrofits
Learn more about Refrigeration Technologies HERE.
If you have an iPhone, subscribe to the podcast HERE, and if you have an Android phone, subscribe HERE.